When it comes to flatbed hauling, there is nothing that is too large for transport. In fact, the bigger the better.
Bulk Trash Transport (Construction trash, mulch, trees)
American Indian Transport can provide transportation of non-hazardous bulk Municipal Solid Waste, all types of recyclables, construction and demolition debris, landscape waste (leaves, brush, grass), and railroad ties. We can provide equipment to help clean up your construction site.
Pneumatic Tanker Services
If your project requires materials that need to be sealed from outside air and moisture contamination, then a pneumatic trailer is the right solution. Materials hauled in a pneumatic trailer are easily unloaded through pipes with compressed air, and they are perfect for hauling a variety of construction materials such as cement, sand, and dry or liquid chemicals. Let our team at American Indian Transport know what you need hauled, where, and when, and we can find the right pneumatic hauling solution for you.
Equipment Transportation
American Indian Transport can safely transport nearly all types of construction equipment, excluding only massive pieces such as Yellow Iron cranes or loaders. Aside from those large pieces requiring special permitting for road transport, we can transport all equipment and accessories found on common construction sites—small bobcats and backhoes, compact track loaders, excavators, skid steers, generators, lighting and more. Whether you need one Caterpillar skid steer loader moved or an entire construction site of equipment transported, we can handle the job.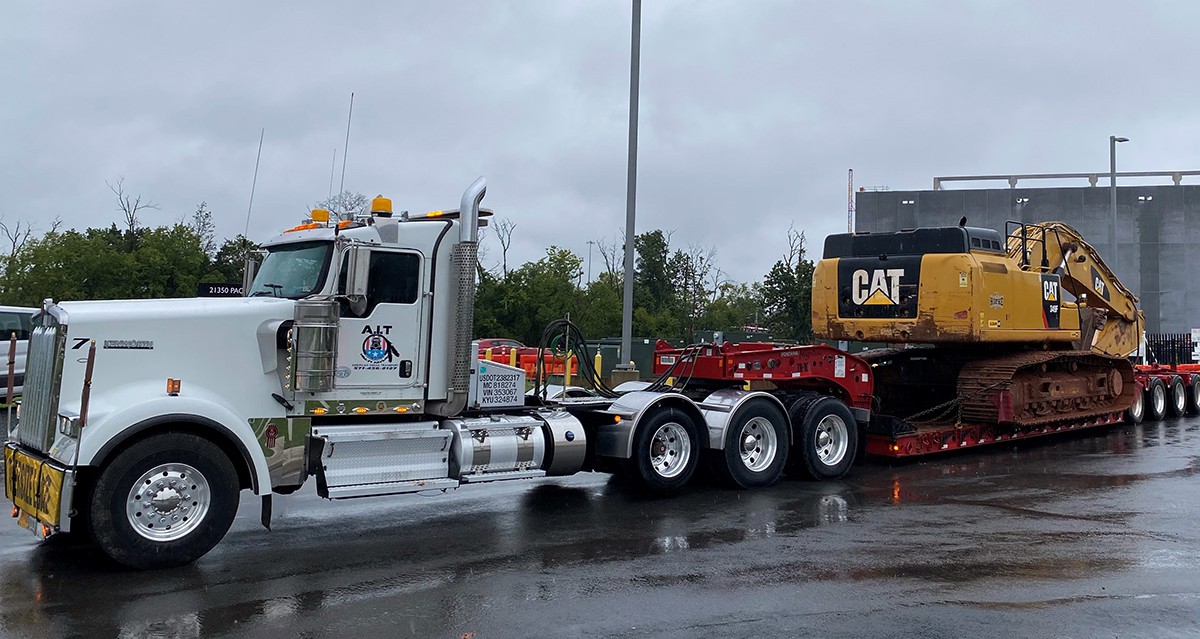 We can transport all brands of construction equipment
If you need professional and efficient hauling for construction equipment, contact American Indian Transport. We provide superior quality and service for every client on every job.
We can transport / haul everything from large cranes, backhoes and front-end loaders, to almost every piece of farm equipment. When you need to transport something large, call us.
Our transportation service is also experienced in moving skid steers and manufacturing equipment like lathes, milling machines and punch presses.